Guess what I'm painting today?   Some people have asked me if I know what I'm going to paint when I sit down at the easel.  Well honestly, I don't always have a set idea.  If I'm painting a still life, I prefer to do fruits, veggies or flowers so I simply look around to see what I have in the house.  Sure, sometimes I'll gather something on a walk in the countryside because it has a particular beauty or simplicity and therefore it may end up in a painting.
Today's painting was inspired by my neighbor, Mona's vegetable garden bounty.  She's quite a buzy-bee and produces all sorts of vegetables of which she brings the seeds down from Denmark.  So when I saw her collection of tomatoes, I couldn't resist.
I gathered them up and dashed off to my studio up the street in the small borgo were I live in Umbria.  I lined them up as if they were marching and went at them.  The first thing to do is decide upon a composition, then proceed to draw it quickly.  Just add color after that!  Sounds easy doesn't it?  It is if you have a daily practice and have been doing it for many years.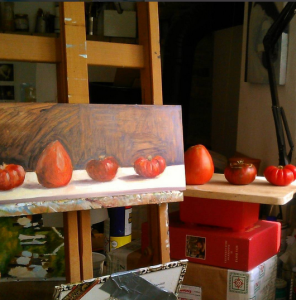 You can view more still life paintings by visiting my shop: Barragan Paintings on Etsy.com