I saw a beautiful book the other day at a dear friends atelier and asked to borrow it.  I guess I was in a romantic spring mood, looking for blooming inspiration.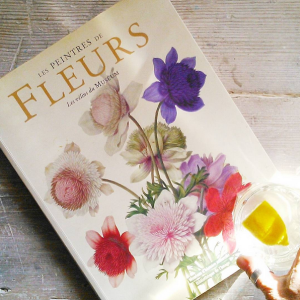 I was struck by these 18th century botanical drawings.  I know it could be so much more interesting to paint from life but painting from photo or illustration poses its challenges as well.  I like how there is  an absence of space or depth of field.  It seems as though time has been suspended.  The images are crisp, clean and classical  I find that reassuring somehow.
Once I had painted these 9 x 11 in. oil paintings on canvas frame, which I consider to be studies, I thought it would be fun to paint their miniature version.  So that's exactly what I did.  Once they had dried, I added faux gold leaf embellishment to the sides and sealed it with lacquer prepared in my studio.
I think they make exquisitely romantic bridesmaids favors or wedding favors for the aesthetically minded bride.  However can also adorn a little corner of your world like a nightstand or a bookshelf.  Click here to view my Mini Botanicals in my shop.
Here is a little time lapse video. Click on the Settings wheel on the screen to view at the highest resolution.