The countryside around Todi is surrounded by endless rolling hills and Roccafiore Wines is cradled among them.  It's a sweet and slow 5 minute drive up the hill to the winery and you can even catch a glimpse of Todi just across the motor way.
As a painter, you can't just trample on someone's property, and especially not a vineyard in full harvest.  I planned ahead and wrote Laura Ferrucci the Hospitality Manager who basically rolled out a little red carpet for me.  She set up an appointment to show me the cantina, tell me a little bit about the philosophy behind it and greeted me with warmth and enthusiasm.  I had the chance to explore the grounds and find a couple painting places for the next day.  Umbria is always beautiful but it's particularly magical if you can experience it during one of its harvests and see the transformation of olives or grapes into prime quality products.
What really caught my eye about this place was its aesthetic and design, its architecture and landscaping fused together.  Nothing is left to chance and everything is absolutely beautiful, from the hanging grapes, to the logo, to the farmers harvesting Grecchetto.
I woke up very early to get to the vineyards and be "in the field" by 7:30 a.m.  The morning light is the best and it moves real quick in the autumn.  I really liked the perspective that the vines offered so I set up my easel making sure I wasn't in anyones way, especially the tractor dude that would come by every so often and pick up the harvested grapes.
The pickers, which are local farmers that live in the area and work seasonally for the cantina were really amused by my presence as was I by theirs.  They had never seen a painter in their field before and were pretty happy to catch a glimps of my painting while it was developing.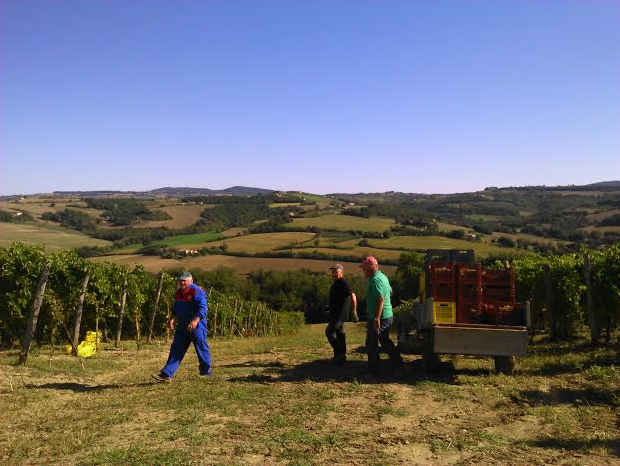 I really enjoyed painting en plein air in these Umbrian vineyards, the cool morning breeze, the sweetness of the farmers and knowing that I too was contributing to the harvest (in my own little way of course!).
Would you like to paint a wine harvest or olive harvest in Umbria, Italy?  Contact me below.
A special thanks to Alessandra at Discovering Umbria Tours in Todi for having introduced me to Laura Ferrucci at Roccafiore Wines.
Download your FREE Roccafiore Vineyard Painting Print that I painted that morning. I suggest you print your painting on 200 or 300 gm. cardstock for best results:
[pdfviewer]https://www.caridadbarragan.com/wp-content/uploads/2016/02/vineyard-download.pdf[/pdfviewer]