You can paint at any time of day but I prefer to paint outdoors in the early morning or late afternoon.  I love the warm glow that hits the side of a tree or a field in Umbria.
I like getting up very early, before dawn.  I'm a slow riser and love to have a fresh squeezed orange juice, then coffee and something solid before gathering my materials: easel, paints & brushes, turpentine, paper towels and heading to the car and a quick drive down the hill and into the countryside.
I never know exactly where or what I'm going to paint.  I do have a couple of favorite spots around Porchiano del Monte where I live.  I just leave the decision to my mood and nature!
This last summer I really fell in love with hay bales and their round symetrical form and the way that contrasts with the irregular landscape.
One of the treats of painting en plein air in Umbria at dawn is that you get to witness the countryside as it wakes up.  You can hear different birds take off and start singing, the local fauna stirring about you (just hope it's not a wild boar!) and a car slowly driving on a gravel path in the distance.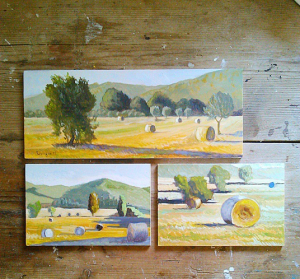 I try to paint the peace and tranquility that surrounds me in the Umbrian countryside.  Have a look at all my recent landscape paintings here in my Etsy shop.